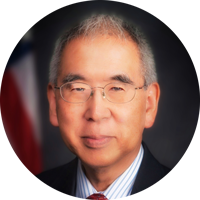 Arnold Kishi (Chair)
Senior Advisor, Office of Enterprise Technology Services
State of Hawaii
Arnold Kishi's extensive public service career includes leading public policy strategy, innovation, and organizational development initiatives across federal, state, and local government information technology, law enforcement, and homeland security programs, and working with multiple State Governors and Mayors, the U.S. Congress, State Legislatures, and County Councils.
Presently, Mr. Kishi is senior advisor to the State of Hawaii Chief Information Officer; Governor's appointee to the State Information Technology Steering Committee; and Chair of the Executive Committee for the Multi-State Information Sharing and Analysis Center (MS-ISAC) at the Center for Internet Security, which he joined 20 years ago.
Previously, Mr. Kishi served in the State Chief Information Officer (CIO) role as Technology Policy Advisor and Executive Assistant to Hawaii Governor Cayetano; State Attorney General's manager for information sharing among law enforcement agencies; State Department of Defense coordinator for cybersecurity and emergency communications; Department of Accounting and General Services project director for electronic government and digital citizen services; National Disaster Preparedness Training Center program developer and subject matter expert for FEMA first responder training; and Senior Administrator at the East West Center - the U.S. Congress-created U.S. Department of State partner supporting countries in Asia and the Pacific.
Mr. Kishi served on the Harvard Policy Group on Network-Enabled Services and Government at the Harvard Kennedy School, and on many NASCIO, NGA, DHS, DOJ, United Nations ITU, and InfraGard working groups on privacy, cybersecurity, critical infrastructure resiliency, technology workforce development, disaster communications, and security intelligence sharing.
Mr. Kishi completed executive leadership and management programs at Naval Postgraduate School Center for Homeland Defense and Security, U.S. Department of Defense Asia-Pacific Center for Security Studies, Harvard University Kennedy School, and Stanford University; and received MBA and BA in Communications from University of Hawaii.