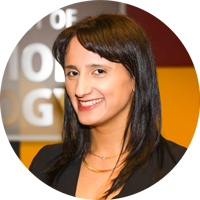 Netta Squires
Director of Local Cybersecurity, Department of Information Technology
State of Maryland
Netta Squires was appointed as Maryland's first Director of Local Cybersecurity, for the Department of Information Technology. In this role Netta is responsible for fostering a Whole of State approach to cybersecurity by coordinating and collaborating with Maryland's counties, municipalities, public school systems, community colleges, and other localities, with the goal of attaining cybersecurity maturity and resiliency. Over the past several years Netta has worked on creating and implementing a wholistic approach to cybersecurity preparedness and response by integrating the technology and emergency management approaches and disciplines at the local, state, and regional levels. Prior to joining the state, Netta spent 6 years at the local level with Montgomery County, MD, in the Office of Emergency Management and Homeland Security.
Netta teaches Emergency Management at the Mid Atlantic Center for Emergency Management & Public Safety and teaches Cybersecurity Technology and Emergency Management for the University of Maryland Global Campus. Netta is a Certified Emergency Manager (CEM) by the International Association of Emergency Managers (IAEM) and a Certified Cybersecurity Resiliency Professional (CCRP) by the Disaster Resiliency Institute (DRI). She is admitted to practice law in Maryland.
Netta participates in the MS-ISAC's Grant Program (SLCGP) and Metrics working groups.