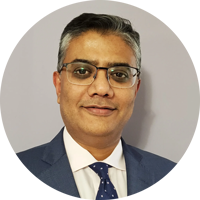 Dr. Bhargav Vyas
Assistant Superintendent Compliance and Information Systems / Data Protection Officer
Monroe-Woodbury Central School District, New York
Bhargav is a distinguished professional with an extensive background and impressive qualifications in the realm of educational technology and information systems. Currently holding the role of Assistant Superintendent for Compliance and Information Systems at the Monroe-Woodbury Central School District, he serves as a beacon of exceptional leadership, overseeing the continuous evolution of an innovative, robust, and secure information technology landscape.
With a remarkable 22-year career as a pioneering educational technology leader, Bhargav has collaborated closely with classroom educators, principals, and district administrators to orchestrate the seamless integration of cutting-edge technology into teaching and learning processes. His proficiency spans a range of domains including network infrastructure, cybersecurity, district-level leadership, and comprehensive support for both students and staff.
Bhargav's dedication to advancing knowledge and fostering public discourse is vividly displayed through his active participation in diverse professional forums and publications. He has engaged in Red Team Training at NYSCATE, offered his insights as a panelist on crucial subjects like Ransomware in Education and Emerging Cybersecurity Trends in Education, and delivered a compelling TEDx talk focusing on Ransomware and Leadership. His invaluable contributions in thwarting ransomware attacks have been spotlighted in an Education Next article, showcasing his tangible expertise. Furthermore, Bhargav has contributed extensively through the written word, including an article on Best Practices for Mitigating Ransomware Attacks published in Ed Week.
Furthermore, Bhargav's role on MS-ISAC executive team, dating back to 2021, underscores his esteemed status within the organization. His contributions have been both notable and impactful, encompassing the delivery of insightful presentations at MS-ISAC conferences, where he adeptly underscores the paramount importance of cybersecurity within K-12 education. In addition to this, Bhargav has distinguished himself as a proactive leader, helming discussions that delve into the intricacies of addressing challenges and presenting potent solutions in the context of cybersecurity within the K-12 sector.