MS-ISAC: 20 Years as Your Trusted Cyber Defense Community
The last few years have been momentous for the Center for Internet Security (CIS). In 2020, we celebrated 20 years of working with organizations to create confidence in the connected world. We're excited to celebrate another milestone: 2023 marks the 20th anniversary of the Multi-State Information Sharing and Analysis Center (MS-ISAC). That's two decades as the trusted cyber defense community for U.S. State, Local, Tribal, and Territorial (SLTT) government organizations.
The MS-ISAC: Then and Now
The MS-ISAC took shape as its own entity in 2003 with an initial purpose of sharing threat information and best practices around cybersecurity with governments nationwide. Things changed in 2010 when CIS was charged with maintaining the growing community. As part of this transition, we expanded no-cost cybersecurity resources to SLTT government entities – a mission that has continued to the present day.
A Greater Variety of Cyber Defense Resources
Since 2010, the MS-ISAC has made leaps and bounds in the ability to equip member organizations in cyber defense. Our 24x7x365 Security Operations Center (SOC) monitors and analyzes potential security incidents involving member organizations in real time. It also helps member organizations respond to incidents with early cyber threat warnings and advisories along with vulnerability identification and mitigation.
In 2011, we launched a pilot for the Albert Intrusion Detection System (IDS). This cost-effective service uses NetFlow logs to review data retroactively, which augments our ability to monitor networks and identify malicious activity. Albert also draws on the combined expertise of the CIS SOC, our Cyber Incident Response Team (CIRT), and our Cyber Threat Intelligence (CTI) team to provide additional monitoring and management, threat intelligence, and incident response support to members at no extra cost.
This brings us to 2020, or the year we launched the Malicious Domain Blocking & Reporting (MDBR) and Endpoint Detection and Response (EDR) services. The former is a cloud-based solution that takes less than 15 minutes to implement and can prevent IT systems from connecting to known malicious domains. The latter serves the Elections Infrastructure Information Sharing and Analysis Center (EI-ISAC), an elections-specific cyber defense community that formed in 2018. It deploys on endpoints, continuously monitors them for anomalous activity, and assists with asset management. This service was expanded in 2022 to become available to all MS-ISAC members at low cost as CIS Endpoint Security Services.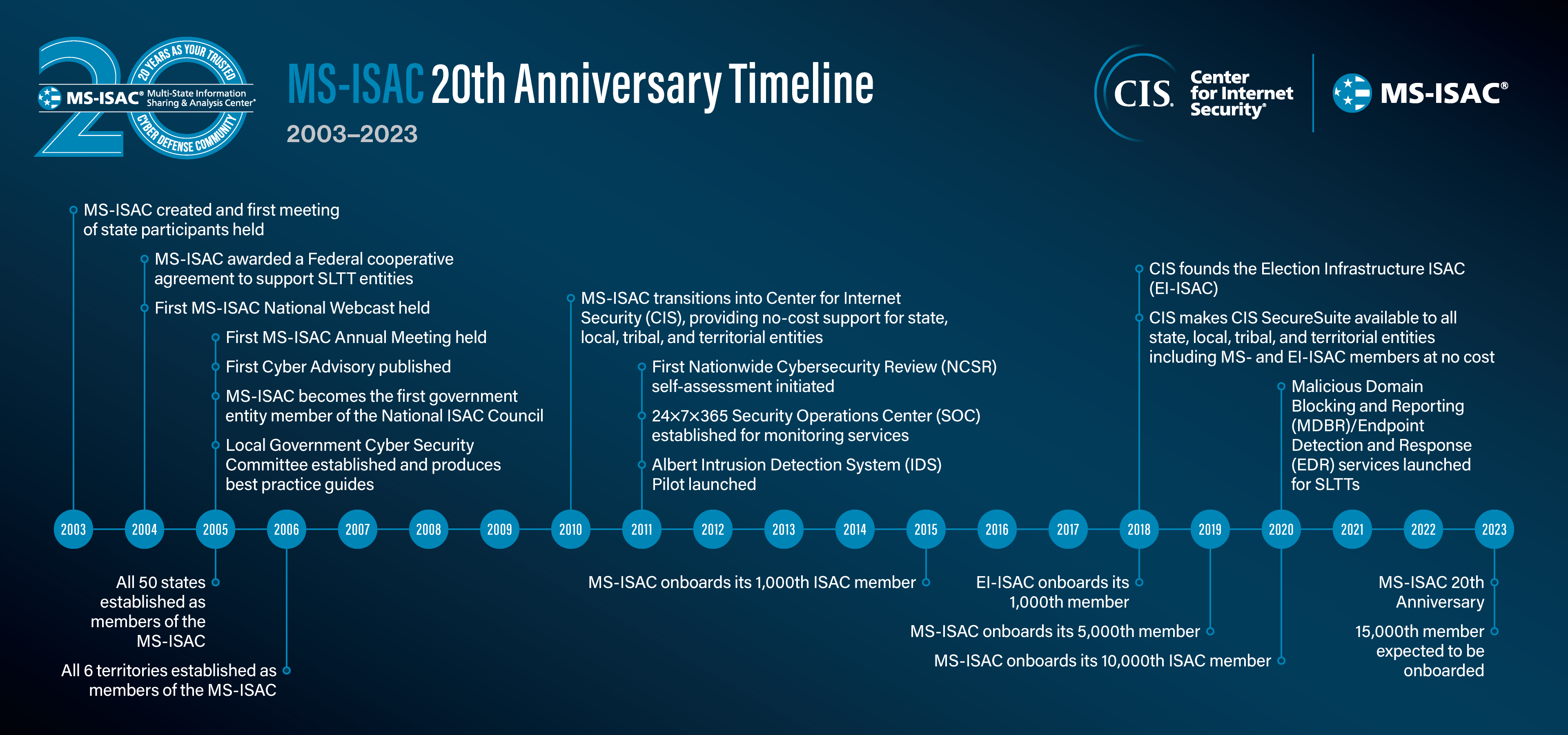 A Trusted Cyber Defense Community
The other part of our story involves how much we've grown as the trusted cyber defense community for U.S. SLTTs over 20 years. In 2015, for example, we reached our 1,000th member. Representatives from all 50 states, 49 state capitals, as well as hundreds of local governments, tribal governments, and U.S. territories made up our ranks.
We grew considerably in the next few years and recently hit our 15,000th member! This expanded membership includes all six U.S. territories, 183 tribal entities, 1,641 cities, 1,482 counties, 4,222 K-12 schools or districts, 854 higher education institutions, 3,553 EI-ISAC member organizations, and 80 fusion centers, among others.
To a Year of Continued Growth
As we're celebrating the MS-ISAC's 20th anniversary, MS-ISAC members are contributing to the value of our community every day through collaboration, sharing of best practices, mentorship, and the use of our current and emerging cyber defense services. This year and in the years ahead, the MS-ISAC will continue to be an educational resource for our membership's evolving cybersecurity needs, and we will continue to expand and foster opportunities of collaboration between members. This includes hosting our Annual MS-ISAC Meeting in August. During this banner year for our MS-ISAC community, we look forward to gathering to celebrate the cyber defense community we've built together.
Not a member? You can get started in five simple steps.