Services and Consulting
CIS SecureSuite Membership for consultants and service providers allows organizations with consulting engagements to use the Membership resources (including CIS-CAT Pro, CIS CSAT Pro, CIS Build Kit content, and the CIS Controls) on client machines to assist with auditing or consulting engagements.There are options for large consulting firms as well as small, independent IT consultants.
This CIS SecureSuite Consulting & Services Membership category includes, but is not limited to, organizations providing Software as a Service (SaaS), Infrastructure as a Service (IaaS), or Platform as a Service (PaaS) may incorporate the CIS SecureSuite Membership resources into the systems, networks, and storage needed to support your business environments.
This CIS SecureSuite Membership category does not allow service providers to sell or distribute CIS SecureSuite resources to clients.
CIS Consulting and Services Membership Benefits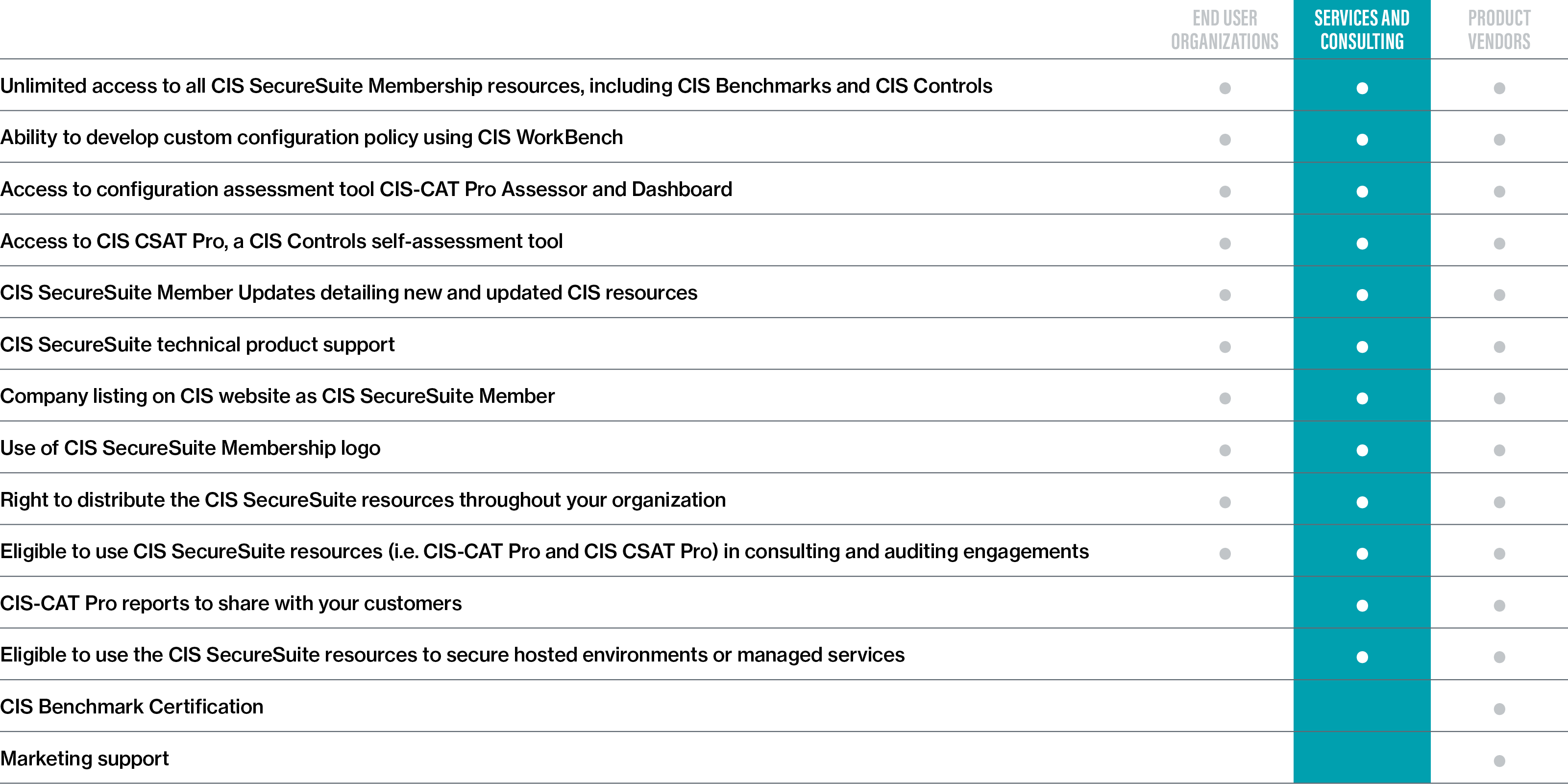 Pricing for Organizations
CIS SecureSuite Services & Consulting Membership allows an organization's employees unlimited access to the Membership resources per the terms of a CIS SecureSuite Membership agreement.
Annual membership fees are based on the enrolling organization's annual revenue*:
Annual Revenue Range

1-Year Total

10% off
2-Year Total
15% off
3-Year Total
$1B+
$22,000
$39,600
$56,100
$100M – $999M
$16,500
$29,700
$42,075
$10M – $99M
$11,000
$19,800
$28,050
$1M – $9M
$8,200
$14,760
$20,910
$0 – $999K
$5,500
$9,900
$14,025
Pricing for Individual Consultants
Independent security consultants and individuals working in consulting/auditing organizations may also purchase a membership used solely for Consulting Engagements. As an Individual Consultant, the right to use CIS SecureSuite resources applies only to the individual named in the CIS SecureSuite Membership agreement (required prior to enrollment).
The Individual Consulting Membership option is not for use of the Membership resources with product incorporation or for hosting or managed services. The Individual Consultant is not permitted to use the resources throughout his/her organization's enterprise IT infrastructure for internal use.
The annual membership fee for an Individual Consultant is $3,630 USD.*
*Pricing in USD. Subject to change.