Akamai Enterprise Threat Protector

Proactive Protection Against Zero-Day Malware, Ransomware, and Phishing
Akamai Enterprise Threat Protector (ETP) is a cloud-based secure web gateway (SWG) designed to help security teams ensure that users and devices can securely connect to the internet wherever they happen to be, without the intricacy and management overheads associated with other legacy security solutions. Enterprise Threat Protector is powered by real-time threat intelligence based on Akamai's unrivaled global insights into internet and domain name system (DNS) traffic, as well as multiple malware-detection engines.
Enterprise Threat Protector proactively identifies, blocks, and mitigates targeted threats such as malware, ransomware, phishing, DNS data exfiltration, and other advanced zero-day attacks.
Akamai Enterprise Threat Protector is used to provide Multi-State Information Sharing and Analysis Center (MS-ISAC) and Elections Infrastructure Information Sharing and Analysis Center (EI-ISAC) member organizations with the Malicious Domain Blocking and Reporting (MDBR) service. However, member organizations can upgrade to a self-managed standalone version of Enterprise Threat Protector that provides additional product features and capabilities at a discounted price.
See the following table below for a high-level feature comparison between MDBR and the Enterprise Threat Protector editions: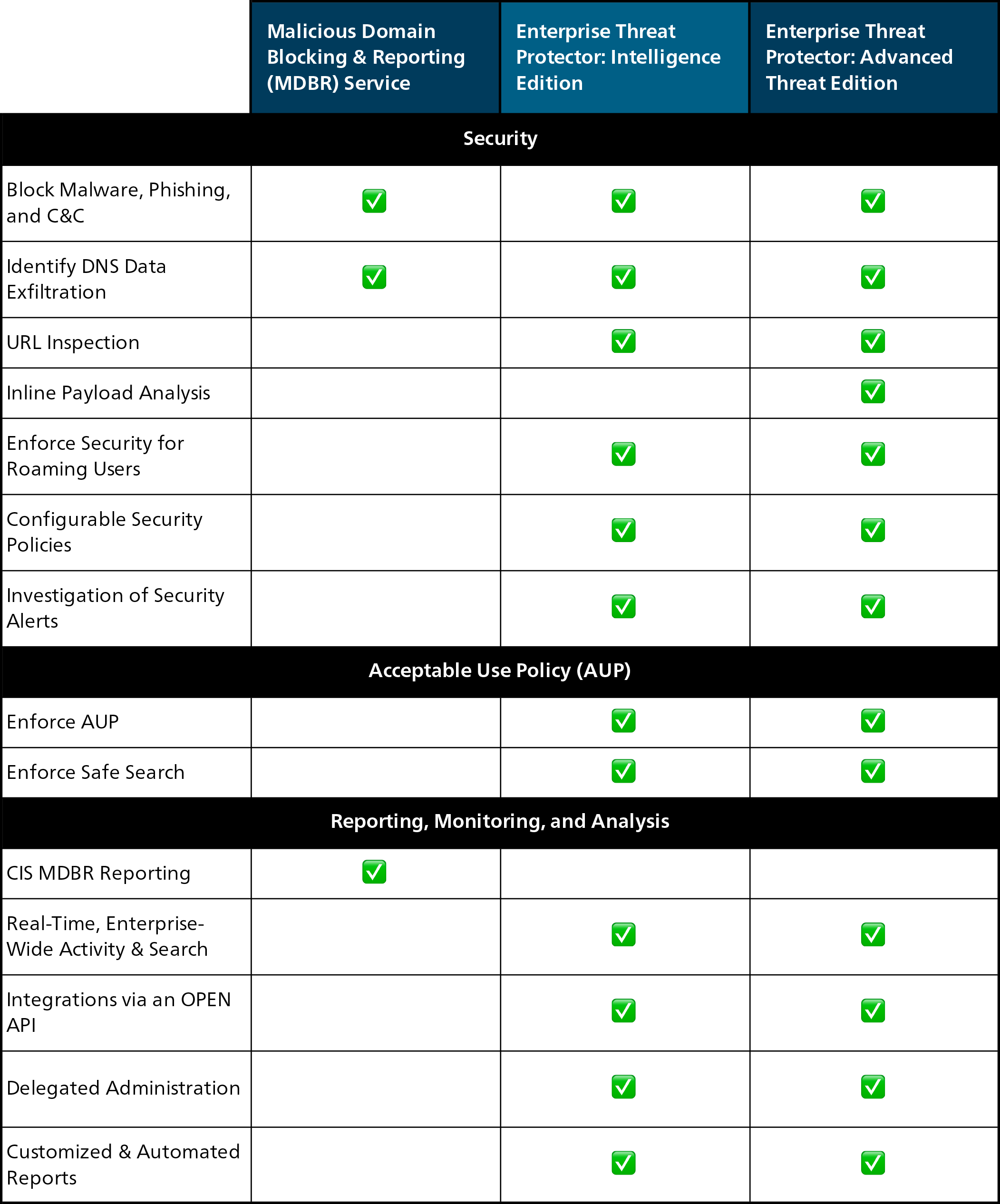 Download the Enterprise Threat Protector Product Brief
Upgrade Pricing, Ordering, Questions, and Contact
MS-ISAC and EI-ISAC members, as well as other state, local, tribal, and territorial (SLTT) governments, associated nonprofit organizations, and public education and healthcare institutions can upgrade to a self-managed version of Akamai's Enterprise Threat Protector at a discounted rate through CIS CyberMarket.
Enterprise Threat Protector – Special Upgrade Pricing

For questions or additional product information, contact [email protected] or call the CIS CyberMarket team at 518-880-0770.
For purchasing information, visit the product page on Carahsoft, our contract vehicle partner for this CIS CyberMarket purchasing opportunity at https://www.carahsoft.com/akamai-1/resources/akamais-enterprise-threat-protector.
For additional product information and documentation, please visit Akamai's Enterprise Threat Protector page for more details.