Essential Sessions at AWS re:Inforce to Strengthen Your Cloud Security
The CIS team is heading to Boston, Massachusetts on June 25-26, 2019 for AWS re:Inforce. This inaugural cloud security event will bring together thousands of cybersecurity experts and industry professionals.
Those attending AWS re:Inforce will be able to access hundreds of sessions, connect with cloud security leadership, and receive hands-on learning with AWS tools. This two day event features technical workshops, a partner expo called the Security Learning Hub, evening reception, and more. Keep reading for a list of can't-miss sessions and opportunities.
Featured at AWS re:Inforce
Keynote: AWS Cloud security: Moving forward in the cloud
June 25, 2019 | 11AM
This is one keynote you don't want to miss out on! Hear from AWS Vice President and Chief Information Security Officer Stephen Schmidt as he dives into the future of cloud security. You'll learn about managing security at scale and hear from industry leaders about their experiences with compliance and governance in the connected world. We hear that CIS will be mentioned in the keynote!
Continuous server hardening (Session ID: GRC341-R)
June 25, 2019 | 11:30AM – 12:30PM
June 26, 2019 | 2:00 – 3:00 PM
Speaker: Luis Tapia, Senior Solutions Architect, AWS
Many organizations still have static application environments with servers that run for months. Over time, these instances can drift from the desired configuration, increasing the risk to organizations of a breach. In this session, we demonstrate how organizations can use Ansible to harden their servers in accordance with CIS Benchmarks, using AWS Systems Manager and AWS Developer Tools. Learn how easy it is to manage secure server configurations as code using DevOps practices such as CI/CD.
AWS GovCloud (US) isn't just for government: Support sensitive workloads (Session ID: GRC344)
June 25, 2019 | 1:00 – 2:00 PM
Speakers: Tim Sandage, Sr. Security Partner Strategist, AWS
Keith Brooks, Sr. Manager, AWS GovCloud, AWS
From PII, patient medical records, and financial data to law enforcement data, export controlled data, and other forms of CUI, AWS GovCloud (US) Regions help government and commercial customers address compliance and securely support regulated workloads on AWS. Learn how AWS GovCloud (US) Regions address sensitive data and let customers architect secure cloud solutions that comply with the NIST framework; the FedRAMP High baseline; the DOJ Criminal Justice Information Systems Security Policy; US International Traffic in Arms Regulations; Export Administration Regulations; the DOD Cloud Computing Security Requirements Guide for Impact Levels 2, 4, and 5; FIPS 140-2; IRS Pub 1075; and more.
Ask CIS Anything
June 25, 2019 | 1:30PM
Join CIS for a meet-and-greet at the Barracuda booth in the afternoon. Bring your questions! Our team will be happy to share more about:
Our unique consensus-development process through which a global community creates, validates, and promotes cybersecurity best practices, the CIS Controls and CIS Benchmarks
The free CIS AWS Foundations Benchmark, a free resource to help securely configure your AWS environment
CIS Hardened Images, preconfigured machine images that help users start secure and stay secure in the cloud
Happy Hour Cloud Security Social
June 25, 2019 | 6:30PM
Don't miss this laid-back learning and networking opportunity. Enjoy a beautiful garden rooftop, heavy appetizers, and an open bar at Publico Street Bistro & Garden. Meet up with fellow cloud security experts for a great discussion about hardening cloud infrastructure using AWS. CIS is co-sponsoring with Barracuda and Vandis and we'll even give you a Lyft credit to get there!
Register: https://www.barracuda.com/events/registration/1557949121?ref=cis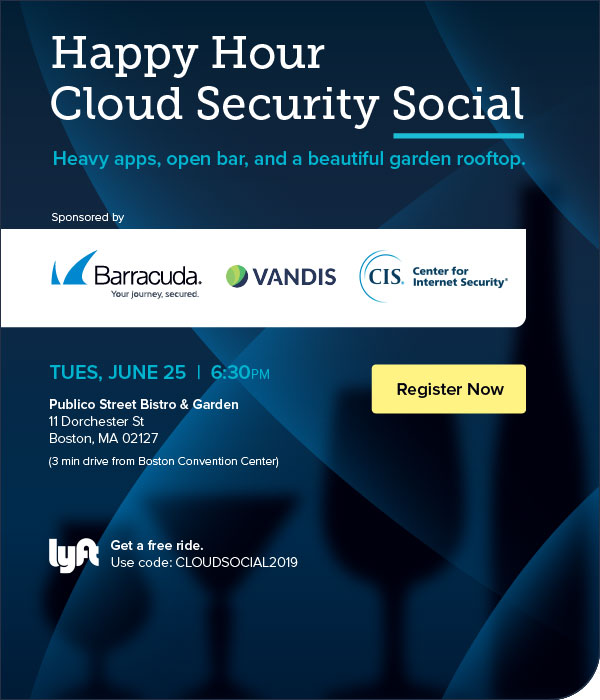 Will your organization be participating at AWS re:Inforce? We hope to see you there!