CIS Controls Community Volunteer Spotlight: Tyler Desjardins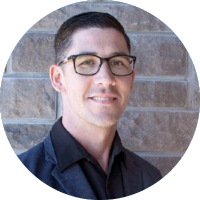 CIS values all of the volunteers who contribute their understanding of the latest known cyber threats to shape the CIS Benchmarks and CIS Critical Security Controls (CIS Controls). This consensus process ensures CIS remains the objective, referenced standard for cybersecurity resources in industry, government, and academia around the globe.
Tyler Desjardins, Director of Security Services at Arctic Wolf, has been a CIS Controls Community member since 2017, but he began using the CIS Controls well before that. He's also an adjunct professor of mobile security at Cambrian College, and he advocates for the CIS Benchmarks at least once every class to highlight a specific topic.
"The community is what makes CIS what it is. Calling on the experience and knowledge of so many people who are willing and able to volunteer their time and effort makes for a very robust dataset," said Desjardins. "I think my favorite part is the vast array of experience and knowledge, too! The community has experts in every field of cybersecurity and even in language, which makes everything put out by CIS very easy to read and understand."
He acknowledges that cybersecurity is a team sport and that no one person or organization can do it on their own.
"We need a community of like-minded individuals to share knowledge, share experience, and work together to combat cyber risk," said Desjardins. He added that he's been able to make very valuable connections as a result of volunteering with CIS, whether it be people he's talked to through the CIS WorkBench platform or on LinkedIn after a project was completed.
"The main driver behind these connections being so valuable is because all CIS volunteers have a single mindset and mission – to pass on any knowledge we have, to gain knowledge from others, and to help the cybersecurity community be armed better to defend against cyber risk," said Desjardins. "The thing with cybersecurity, or technology in general, is that we all have something to offer, whether it be a recent graduate or a 30+ year veteran. It may feel like you're green when you are fresh out of school, but in my career, I've learned so much from people who are new to the industry. They have unique insights and a different way of thinking."
Desjardins has volunteered his time and effort toward CIS Controls v6, v7, and the latest release — CIS Critical Security Controls v8. He also contributed to the CIS Controls v8 Cloud and Mobile Companion Guides and many CIS Benchmarks.
"There is a community in [CIS] WorkBench for everything. It's quite amazing. There are very few things I can't find, and if there is something it's just a matter of time before usage upticks enough to solicit a community."
Desjardins spent 10 years in cybersecurity before volunteering with CIS and wishes he had joined sooner. He encourages others to join a CIS Community and has seen definite changes in his career since he started volunteering.
"I always say, 'In cybersecurity if you're standing still, then you're moving backwards; you always need to keep moving forward.' Volunteering with CIS gives me this opportunity," said Desjardins. "Knowing that I can make and have made an impact to combat cyber risk by volunteering my time and effort to the CIS Controls has been one of the most rewarding things in my career. I would encourage anyone to start by joining just to learn and volunteer where you can with whatever knowledge you have. It is addicting once you get started! You may even learn a thing or two along the way."
Interested in becoming a volunteer like Tyler Desjardins? Join a CIS Community today.