CIS Benchmarks Community Volunteer Spotlight: Daniel Jasiak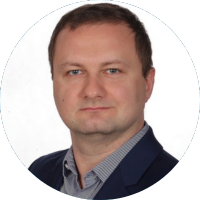 CIS volunteers are the backbone of our best practices. They work hard to make sure the CIS Benchmarks and the CIS Critical Security Controls reflect a global knowledge base of the latest known cyber threats. Our unique consensus process ensures CIS remains an objective, referenced cybersecurity standard for hardening resources in industry, government, and academia. Together with CIS, volunteers from around the world develop, review, and maintain our best practices.
One such volunteer is Daniel Jasiak, Solution Architect at Credit Suisse and a member of the Microsoft Edge Community within CIS WorkBench. He's been a member of the CIS Benchmarks Communities for two years and has been involved with Edge since day one, helping create the CIS Microsoft Edge Browser Benchmark.
"The CIS Benchmarks Community has allowed me to find and connect to people interested in configuration of rare, niche security-related settings in the enterprise web browsers landscape," said Jasiak. "Additionally, joining a CIS Community has enabled me to become recognized as a subject matter expert in my company for software platforms dependent on web browsers."
Jasiak is a Solution Architect with expertise in numerous technologies including Windows operating systems, Microsoft 365 apps, and web browsers. He's also certified in various Microsoft Azure technologies.
"Being part of the CIS Benchmarks Communities has given me the opportunity to gain insight on how recommendations are made for various Microsoft technology settings for organizations," said Jasiak. "I encourage others to join a CIS community to get various opinions about settings configuration and its security impact."
Interested in becoming a volunteer like Daniel Jasiak? Join a CIS Community today.