Bringing Multi-Cloud Security to VMWare Explore 2022
The theme of VMWare Explore 2022 U.S. is "Map Your Multi-Cloud Journey." This is an important topic for organizations everywhere. If they don't think strategically about their multi-cloud environments, they might find themselves paying for resources they don't need, creating unnecessary complexities for stakeholders, and leaving their systems and data at risk of exposure.
The Center for Internet Security (CIS) understands these challenges. That's why we're excited to be sponsoring VMWare Explore 2022 at the Moscone Center in San Francisco on August 29 – September 1, 2022. We'll be available at Booth 1905 to speak with you about your cloud security needs.
Why Does CIS Care about Multi-Cloud Security?
More and more organizations are turning to a multi-cloud strategy. In the 2022 State of the Cloud Report, 89% of organizations told Flexera that they had a multi-cloud strategy. That's only slightly higher (80%) than the organizations using both public and private clouds in a hybrid approach.
These findings reflect the benefits of using multiple cloud deployments. As noted by Ziffity, a multi-/hybrid-cloud strategy enables organizations to align their workloads with the cloud service that works best for them, thereby supporting innovation while avoiding vendor lock-in. These approaches also save organizations money. With multiple cloud environments at their disposal, they can enjoy greater redundancy and capacity to recover from a disaster – all without having to pay upfront for services they don't need.
That being said, multi-/hybrid-cloud strategies do create certain challenges. Chief among them is security. In its 2022 Global Hybrid Cloud Trends Report, for instance, Cisco asked, "What are the most significant challenges your organization faces or would face using multiple clouds?" Security received the greatest proportion of responses at 37%, with operational complexity and a lack of visibility not too far behind at 33% and 25%, respectively.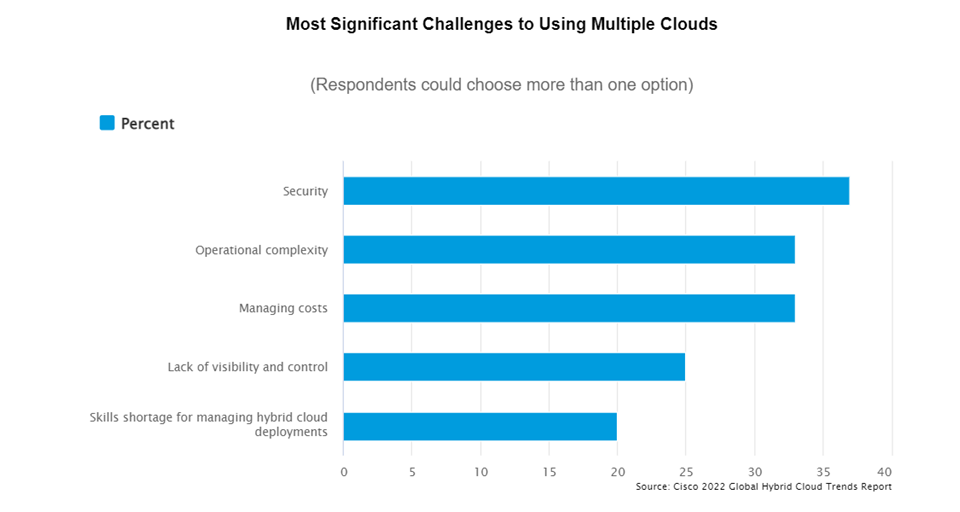 Forbes echoed these sentiments, highlighting how the absence of a centralized view makes it difficult for IT and security teams to meet their organization's security and compliance challenges.
"Ensuring security within multi-cloud environments is more complex than simply adopting more security tools," the article explained. "Most organizations simply don't have the time or resources to dedicate to building different security controls to meet the specific authorization models of each cloud provider."
Fortunately, CIS has been working to help organizations address these security concerns. It's done so in two ways:
Providing organizations with resources and tools for implementing security best practices through a CIS SecureSuite Membership. This includes helping organizations use CIS SecureSuite to tackle audits and cloud security efficiently and at scale.
Creating virtual machine (VM) images hardened in accordance to the CIS Benchmarks. The purpose of these CIS Hardened Images is to help organizations secure their cloud computing environments without needing to modify security controls for different cloud platforms.
Streamline Your Multi-Cloud Security with CIS
Our team is always available to help organizations solve their multi-cloud security challenges. Sound interesting? We hope you'll stop by for a chat at VMWare Explore 2022. In the meantime, we hope you'll explore how CIS Hardened Images can help you with your multi-/hybrid-cloud strategy.