4 Reasons Waiting to Switch to the Cloud May Cost You
Do you make decisions to ensure your organization's environment is not only secure, but also up-to-date with the latest vulnerability patches? Moving to the cloud can help address these challenges in new, unique ways. With CIS Hardened Images you can have peace of mind knowing your employees are working in an environment that is built to defend against cyber threats. These securely preconfigured virtual machine images are based off of the best practices for the secure configuration of a target system, known as the CIS Benchmarks.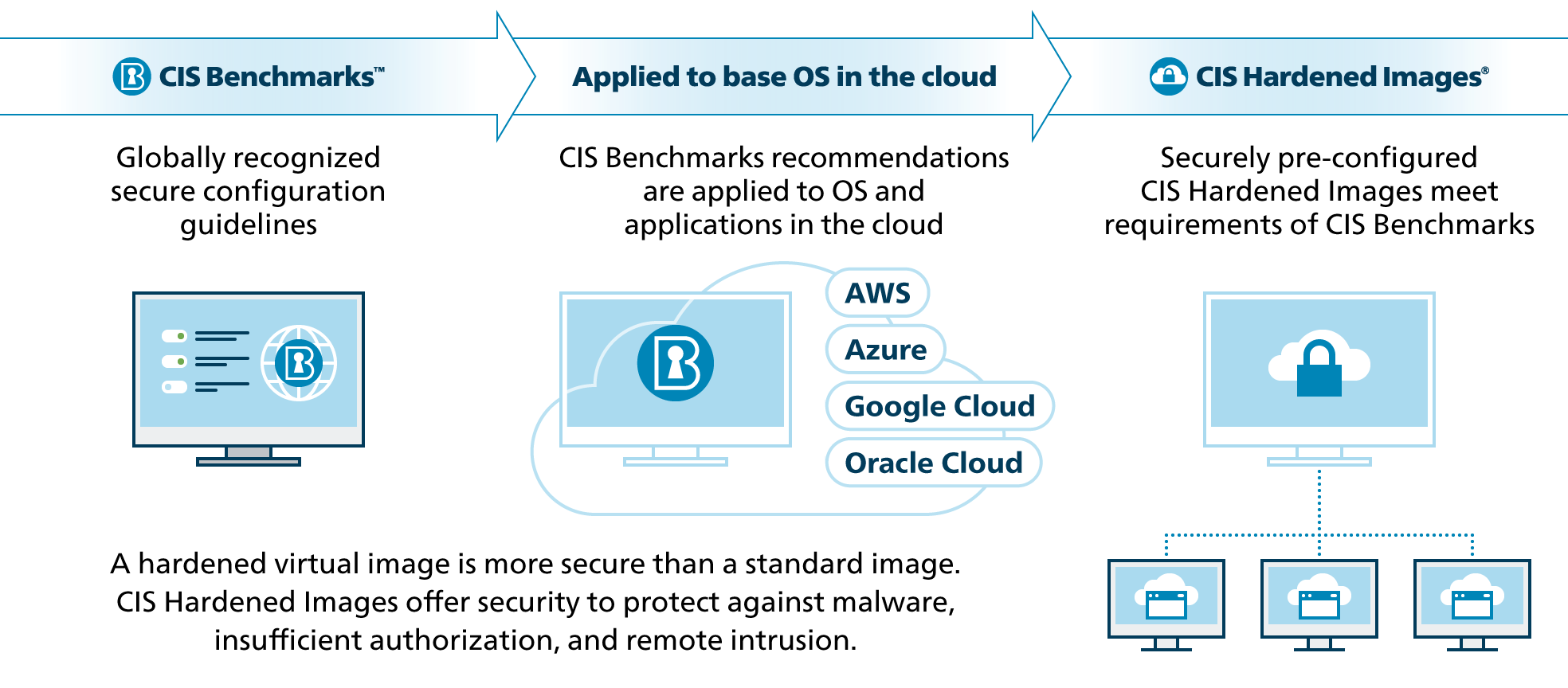 1. Differently configured images
By leveraging virtual machines in a cloud environment, systems admins and CISOs can deploy a single image across multiple workstations. Starting with a base image is one way, but base images lack the security of one which has been configured to a hardening standard. Administrators can feel confident knowing that the CIS Hardened Images conform to recommended cybersecurity best practices of the CIS Benchmarks. They are the only consensus-based best practice security configuration guides both developed and accepted by government, business, industry, and academia. In addition, the CIS Benchmarks are recognized by DoD Cloud Computing SRF, PCI DSS, HIPAA, and NIST as a secure configuration standard – which also applies to CIS Hardened Images.
2. Upfront investments
Avoid hardware purchasing, licensing, and maintenance by working securely in the cloud. For pennies per compute hour your organization can be up and running without having to buy and install physical machines. This can be a major time savings in addition to saving on expensive technical equipment. Then, you have to take the time to harden each workstation. With CIS Hardened Images, each machine launches secure from the start.
3. Inflexible infrastructure
Work in an environment that can handle increased growth with ease. Cloud computing is renowned for its flexibility and scale-up, scale-down as-needed nature. Whether you're looking to increase the memory of a single computer system or compute power of a larger network of machines, CIS Hardened Images make it easy to secure your entire cloud infrastructure.
4. Just how secure is it?
CIS Hardened Images include reports showing conformance to the applicable CIS Benchmarks, as well as any recommendations which could not be applied due to cloud restrictions. This means you and your team can work with confidence knowing that your machines are securely configured and safe from a variety of cyber threats.
A global security movement
Because they are based on the powerful consensus-developed CIS Benchmarks, CIS Hardened Images provide robust security for cloud environments. It's never been easier to implement secure configurations as part of your cyber defense program. Want to learn more? Hear first-hand from users of CIS Hardened Images.