K-9s Receive Bulletproof Vests Courtesy of CIS Cares
Center for Internet Security employee volunteer effort helps protect heroic K-9 officers
EAST GREENBUSH, N.Y., Aug. 3, 2023 – They fearlessly fight crime and protect their communities without a moment's hesitation, and now two exceptional K-9 officers will be better protected against the dangers they face in the line of duty, thanks to a generous donation by CIS Cares.
CIS Cares is a volunteer employee program that aims to leverage the skills, time, and resources of the Center for Internet Security, Inc. (CIS®) and its employees to produce positive and impactful outcomes within their communities and across the country.
K-9 Officer Hunter of the Jackson County Sheriff's Office in Texas and K-9 Officer Argo of the Idaho Falls Police Department in Idaho will each receive top-of-the-line protective vests to enhance their safety and protect them from bullet and stab wounds.
K-9 Hunter is a 5-year-old Dutch Shepherd, certified in patrol and narcotics detection. Since joining the department in December 2022, Hunter has demonstrated remarkable skill in seizing hundreds of pounds of narcotics, making Texas streets safer. Beyond his duties, Hunter enjoys going for runs, playing fetch, and indulging in his beloved Kong toy. However, he is not a fan of baths or loud lawnmowers.
K-9 Argo, a 4.5-year-old German Shepherd hailing from Langen, Germany, is also certified in patrol and narcotics detection. Teaming up with Officer Mitch Bierma of the Idaho Falls Police Department in August 2020, Argo has played a vital role in numerous major operations across local and federal jurisdictions. During his downtime, Argo relishes spending quality time with his handler and family, playing in the snow or water, especially running through sprinklers under the trampoline. Argo reportedly has a protective streak and isn't fond of anyone approaching the car when he's in it.
In addition, an anonymous CIS employee has covered the cost of a third vest for another deserving K-9 officer. This generous contribution is deeply appreciated and will further reinforce the safety and well-being of yet another K-9 hero.
The vests have been made possible through the collaborative efforts of CIS Cares and Vested Interest in K9s, Inc., whose mission is to provide protective vests and other assistance to law enforcement K-9s throughout the United States.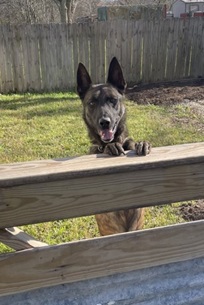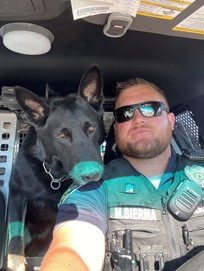 For more information, please contact [email protected].