Tanium

Tanium Endpoint Management and Security
Tanium partners with the Center for Internet Security (CIS) in two areas:
To support the mission of the Multi-State Information Sharing and Analysis Center (MS-ISAC) and Election Infrastructure Information Sharing and Analysis Center (EI-ISAC) help state, local, tribal, and territorial (SLTT) government and election agencies gain unprecedented visibility and control over their IT environment.
To certify Tanium software products aligned to CIS Critical Security Controls (CIS Controls) and CIS Benchmarks, tracked against compliance of industry frameworks and configuration guides.
Technology leaders for public sector organizations face many challenges, including remote work and new digital services that have flooded networks with sensitive data to protect while increasing their attack surface. They face a growing volume of regulatory frameworks and complex security practices, like Zero Trust, to comply with. And cybersecurity budgets are varied, complex, and often limited, making it harder than ever to secure the talent leaders need, forcing them to outsource key roles in cybersecurity and IT management.
In collaboration with the CIS, Tanium is working to educate and empower SLTT government entities and public education institutions with the right tools to solve their most challenging cybersecurity initiatives. The Tanium Platform brings intelligence to endpoints wherever they exist, providing instant visibility, unparalleled context, and the ability to quickly act to better manage and secure environments.
Learn More About Our Partnership with Tanium
Why Tanium?
Why State and Local Governments Need a "Whole-of-State" Strategy
Analyst Insights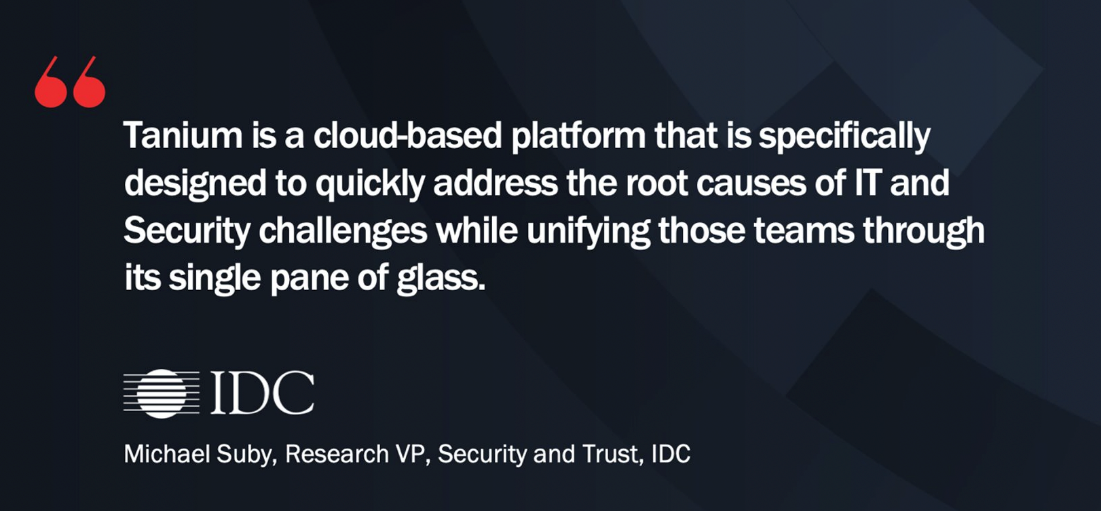 The Tanium Platform
You can't protect what you can't see
With Tanium's Converged Endpoint Management Platform (XEM), SLTT government organizations, as well as public educational institutions and school districts, can get full visibility of any endpoint (anything with an IP address) that is connected to their environment, the comprehensive control to manage Windows, Mac and Linux endpoints, and a single source of truth for all endpoint and IT Operations data – all in one platform.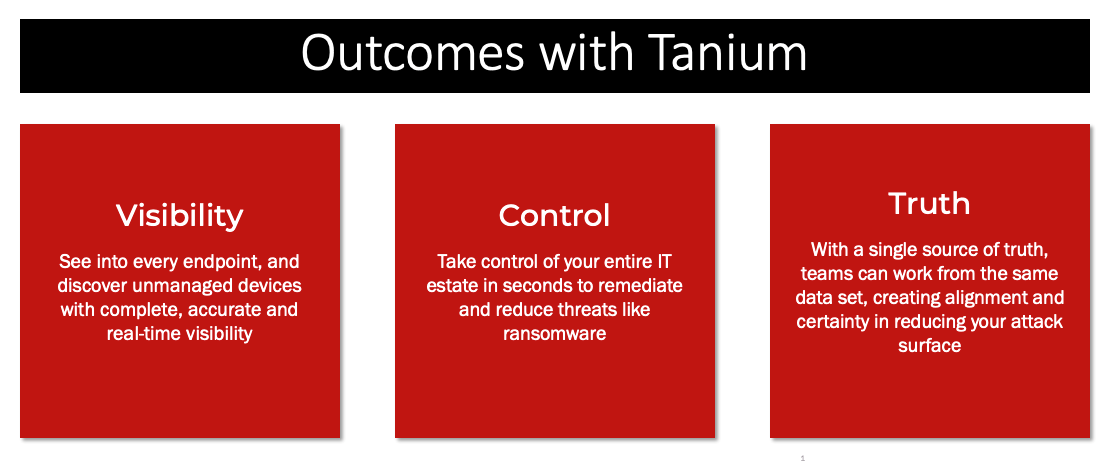 Only Tanium protects every team, endpoint, and workflow from cyber threats by integrating IT, Security, Risk, and Compliance into a single platform that delivers comprehensive visibility across devices, a unified set of controls and a common taxonomy for a single shared purpose: to protect critical information and infrastructure at scale.
Tanium Solutions
Flexible options that meet your security and IT operations management needs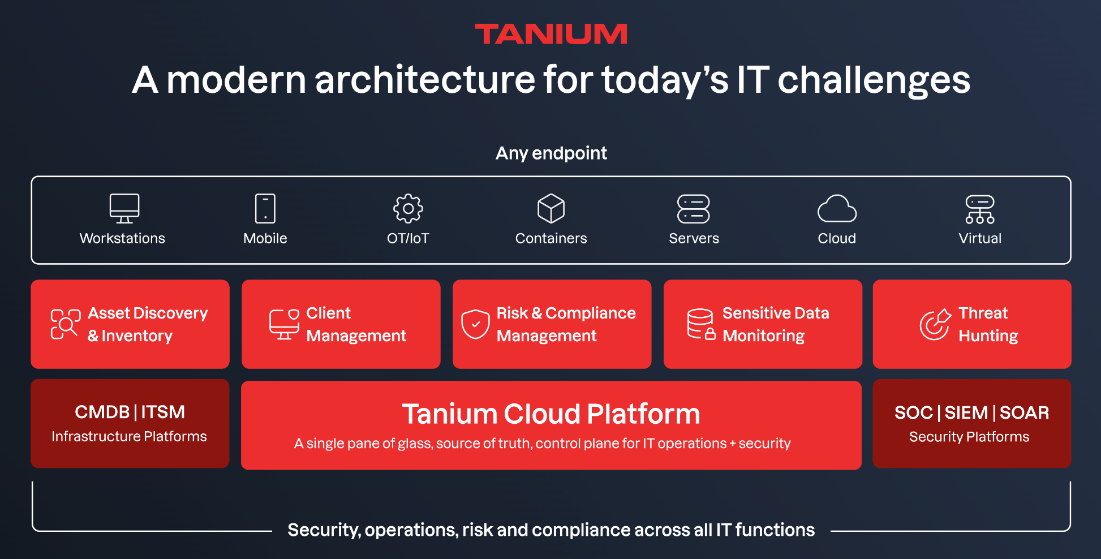 With Tanium's five solution areas, organizations can begin a journey, starting with having visibility, to patch and OS update deployment, sensitive data protection, and threat response at their own pace.
Five Solution Areas for Converged Endpoint Management
Asset Discovery & Inventory: See everything on every endpoint
Answer fundamental questions about your environment with accurate, complete, and up-to-date data about all endpoints, in minutes — not hours, days or weeks.
Client Management: Control your IT assets with confidence
Fast and flexible, it's endpoint management for the modern enterprise. Achieve centralized and automated management of your systems in minutes — not weeks or months.
Risk & Compliance Management: Stay ahead of exploits
Take a proactive, data-driven and continuous approach to managing your exposure with a real-time view of risk posture across your enterprise.
Sensitive Data Monitoring: Gain complete control of all your data
Identify and secure the most important data for your enterprise in seconds, ensuring your intellectual property stays in the right hands.
Threat Hunting: Shut down attackers
Identify and contain adversaries before they can spread across your network.
Get visibility, control, and a single source of truth for your IT operations and endpoint data today. Learn more at: https://www.tanium.com/cis-cybermarket-securesuite/